​Study shows Curcumin protects against Mercury exposure...
Curcumin, a compound derived from the Indian spice, Turmeric, is a natural antioxidant with a broad spectrum of biological functions.
The Journal of Applied Toxicology published a study to examine the role curcumin plays in the protection against the toxic heavy metal, mercury.
The findings are quite promising...
"The study indicates that Curcumin, an effective antioxidant, may have a protective effect through its routine dietary intake against mercury exposure.(1)"
Unfortunately, mercury is found in a wide range of products such as dental amalgams, pharmaceuticals, vaccines, soil, water sources, and food.
It can be difficult to avoid mercury and other heavy metals completely, so supporting your body's ability to detoxify from them is key.
Jigsaw Curcumin makes it easy and convenient to get 250mg in just 1 softgel per day.
And remember, curcumin is not readily absorbable in powder form. That's why Jigsaw Health provides you a 95% curcuminoid compound that dissolves in medium-chain triglycerides (MCTs) and extra-virgin olive oil to increase bioavailability and absorption.
(Btw, this is the way that Dr. Blaylock recommends taking curcumin.)
For this month only, we are offering orders of 1 or more bottles of Jigsaw Curcumin an additional bottle for FREE -- plus $10 off your total.
Source: (1) Agarwal, Rakhi, Sudhir Goel, and Jai Raj Behari. "Detoxification and Antioxidant Effects of Curcumin in Rats Experimentally Exposed to Mercury." Wiley Online Library. John Wiley & Sons, Ltd., 12 Mar. 2010. Web. 13 June 2016.
Click here to add 1 Curcumin to your cart and automatically get 1 FREE plus save $10 on your order.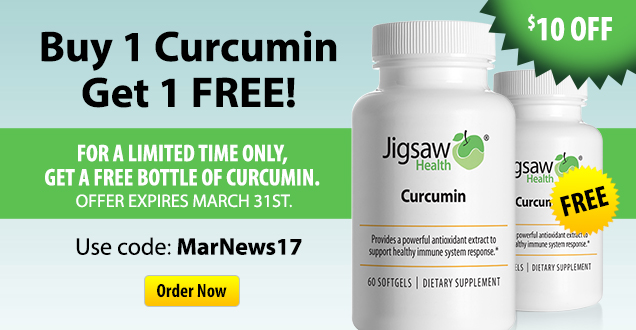 This Month's Coupon Code is: MarBlog17 and is good on any order at JigsawHealth.com.